Unleash Your Potential


My older brother, Steve, excelled in sports. Medals and trophies bore testament of his athletic prowess in swimming and baseball. There wasn't much Steve didn't do well prior to suffering the debilitating effects of recurring brain tumors since he was eighteen years old.
It was difficult watching Steve's gradual physical deterioration, observing his exceptional capacities being sabotaged by his increasingly uncooperative body.
As I witnessed the debacle in which Steve's personality, skills, and talents could no longer find expression, I realized what a extraordinary gift it is to explore and exert our personal potential. I learned to never take my life and abilities for granted. 
When Steve decided to participate in Special Olympics, I assisted at the games. It was there that I learned about the bravery and integrity of the attempt. 
Eventually, even the challenge of throwing a softball from his wheelchair became too great for Steve; and his ravaged body progressively thwarted his efforts to communicate. Through it all, Steve's spirit was indomitable. 
Many years lapsed before he died; but his influence in my life remains undiminished. Thanks to Steve, my experience with Special Olympics provided me with a maxim I have since aspired to live by – the Special Olympics motto: Let me win, but if I cannot win let me be brave in the attempt.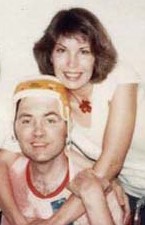 When I feel pressured or discouraged, I recall the challenges that others are going through to remind me how precious a gift it is to unleash potential no matter what age, no matter how limited, no matter what circumstance. 

This website is dedicated to my brother Steve, Special Olympics, and all of those people who continue to reach higher and inspire us all.

Topics That May Interest You
Some of the advertisers on my website are affiliate partners, which means that I may receive a small commission from any sale, at no extra cost to you.  For example, as an Amazon Associate I earn a small commission from qualifying purchases.
Your purchases help to support this free-information website.  Thank you.     
The content of this website is for informational purposes only and not intended to be taken as a replacement for professional medical advice, care, diagnosis or treatment by a doctor, dietitian, physical therapist, nutritionist or fitness instructor.
DO NOT BEGIN ANY EXERCISE PROGRAM WITHOUT CHECKING WITH YOUR DOCTOR FOR UNDERLYING CONDITIONS THAT MAY PREVENT YOU FROM DOING SO.

About Me      Site Dedication      Contact