Dr. Jerald E. Smith --  A Body of Evidence

"Doc"
Dr. Jerald E. Smith, a.k.a. "Jerry," played football in high school.  As the heaviest player on the team at 185 lbs, he played tackle for the undefeated state champion Grand Island Islanders his junior and senior years.  A straight 'A' student through college and medical school, he later became the team physician at Munster High School from its first football season in 1964 to 2009 where he dutifully served every Friday night.
"Doc," as most people called him, was always available the following Saturday morning to address the lingering injuries from the night before. He was the attending physician at over 400 games on a volunteer basis and remained involved in treating countless Munster football players for over 45 years.   
As an admired and sought after family practice physician, he delivered babies from babies he had previously delivered and became an important part of the families he cared for.  Additionally, as one of the first high school team physicians in Indiana, he was a member of the American College of Sports Medicine, and instrumental in developing both the Sports Medicine Department at the Hammond Clinic and the fitness program in the Calumet region.
On December 13, 1987, Dr. Jerald E. Smith was inducted into the Indiana Football Hall of Fame alongside football legends such as Knute Rockne, Ara Parseghian and the Notre Dame "Four Horsemen".

"Fuji"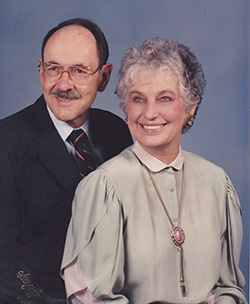 Jerry and his wife, Darlene, rented a motor home as the sag wagon during their church's annual bike rides. Darlene was the cook and Doc spoke words of life as he pedaled beside high school kids.
At the age of 50, he decided to ride and discovered his passion for cycling. He also discovered that it relieved his backaches. His first bike was a Fuji, and it earned Dr. Jerald E. Smith another nickname – "Doc" became "Fuji."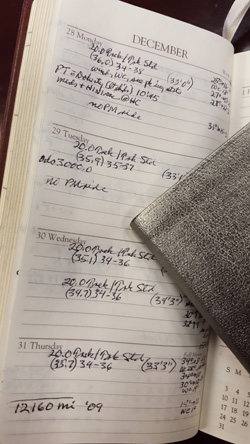 Fuji faithfully logged his rides for 30 years -- averaging his weekly and yearly miles, even tracking the number of miles he rode on each of his many bikes.
What is remarkable is that, at 80 years of age, Fuji logged 12,280 miles in 2010 for an average of 236 miles per week – bettering his previous year's total of 12,160. 
This two-year total is enough miles to circumnavigate the entire Earth!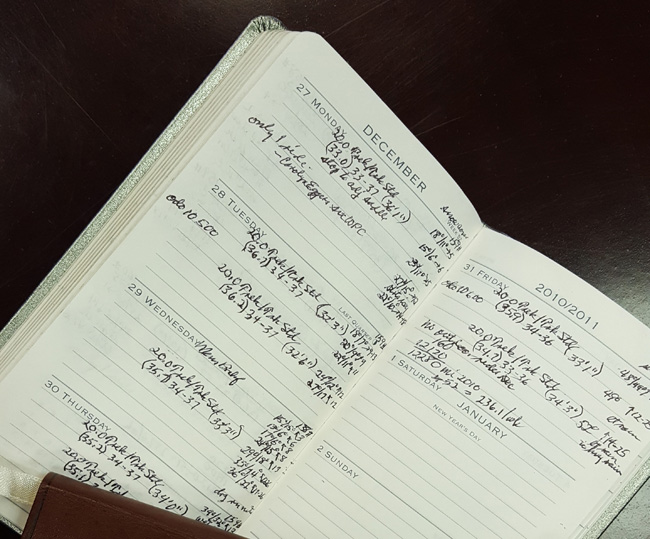 "Dad"
I had the opportunity to speak with Jerry's son, Dr. Brent Smith – a renowned facial plastic surgeon in Colorado. The following is based upon our conversation.
BONNIE: Your father's state of fitness was extraordinary. What was his diet like?
DR. SMITH: His weaknesses were cookies and ice cream; but, for the most part, he ate healthy. He worked out so much, he could get away with it. He ate a lot of small meals throughout the day.
BONNIE:  How much recovery time did he take?
DR. SMITH: "None. He rode seven days per week, twice each day. If the weather was bad, he rode his stationary bike for two hours. He kept a bike and riding clothes in both my brother's home and mine so he could ride when visiting."
BONNIE:  Did he participate in biking events?
DR. SMITH: He rode alone most of the time, and occasionally went on group rides. He also rode the cycling stage in triathlons, and had a trial bike just for that.
BONNIE:  Did he ever get sick?
DR. SMITH:  He, maybe, missed 2 or 3 days of work in his entire life.
BONNIE:  What are the lessons you learned from your father?
DR. SMITH: "One of the things my dad always said to freshman medical students was to 'choose a field that you truly enjoy, and you will never have to work a day in your life.' I feel sorry for people who dread what they do and they don't like their life. If that's the case, they should change it. Life is too short to go through it that way.
I learned to be charitable -- not only to myself but to others. "My dad was a very charitable man."
I asked him what he thought about when he was riding alone. He said, "I pray when I'm riding. I am riding with God, so I am talking to Him the entire time. I pray for everything because I know God listens and cares."
BONNIE: What do you believe his body was evidence of?
DR. SMITH: You are as young as you feel. Chronological age is one thing; but, how old you feel you are is another. One of the great lines I like is, "How old would you be if you didn't know how old you were?" I think that, for my dad, he just didn't know how old he was. He didn't accept being a number. It's like you and I. I am sixty. I don't feel 60. I feel 40.
It's how you approach life. If you think you are old and no longer have purpose, that people need to take care of you, if you have a can't-do instead of a can-do attitude, you are not going to be able to do it. If you go through life with a can-do attitude, you are going to be able to accomplish so much.
My dad frequently tested his fitness levels. He was in incredible condition – heart and lungs. His HDLs were off the charts. His blood pressure was very low with a low resting heart rate. At 65 he would ski all day and never get tired.
"My dad truly is a man of excellence. Whatever he does, he does to perfection. People love him."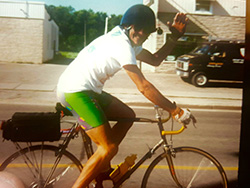 We salute you, Fuji!
Thank you for your generosity, wisdom, and example.
Related Articles: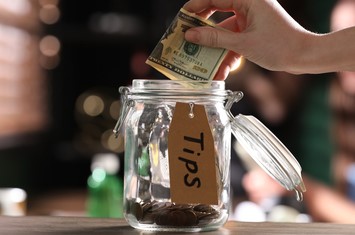 Please use this TIP LINK to show your appreciation for this free-information website. Thank you!
Some of the advertisers on my website are affiliate partners, which means that I may receive a small commission from any sale, at no extra cost to you.  For example, as an Amazon Associate I earn a small commission from qualifying purchases.
Your purchases help to support this free-information website.  Thank you.     
The content of this website is for informational purposes only and not intended to be taken as a replacement for professional medical advice, care, diagnosis or treatment by a doctor, dietitian, physical therapist, nutritionist or fitness instructor.
DO NOT BEGIN ANY EXERCISE PROGRAM WITHOUT CHECKING WITH YOUR DOCTOR FOR UNDERLYING CONDITIONS THAT MAY PREVENT YOU FROM DOING SO.

About Me      Site Dedication      Contact